Rehearsed – For One Night Only
A unique evening of local actors presenting rehearsed readings of the work of local writers. Plays, poems, short stories, monologues – exploring life's big – and little – questions. Funny, angry, sad, devastating – so many emotions covered in a one-time only event.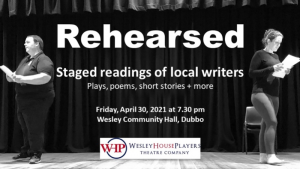 WHEN – 30th APRIL – 7.30pm
WHERE – Wesley Community Centre, 64-66 Church St, Dubbo
COST – $16.00 inc booking fee (note: Credit Card charges may apply 1.47%)
Recommended for audiences 15 years and over – adult themes, occasional coarse language and sexual references. 
For tickets please go to – http://www.123tix.com.au/events/17446/reheased-staged-readings-of-local-writers
Are you wondering what a rehearsed reading is – well here is the answer: A rehearsed reading is a group of actors enacting a piece reading rather than having memorized the lines. Also known as a "script in hand reading."